Organization
At Allied, we know that our people are our most important asset. We are committed to attracting people who embrace excellence and are passionate about results and innovation. We boast of a strong team across our head office, regional offices and outlets with in-depth knowledge, unparalleled customer focus, and capability to create innovative solutions that are models for the industry. We invest in our staff to continually develop abilities and nurture carriers for long term organisational growth. We want Allied to be an inspirational place to work. Customer service is at the heart of everything we do and is everyone's responsibility. Working as one team, we aim to deliver high quality advice and support for our customers, underpinned by local knowledge and specialist expertise.
We strive to be known for high standards of customer service, innovation and excellence and for delivering what we promise.
Working Culture
We are friendly, honest and dedicated – we are always as good as our word. Everyone needs, and is willingly given, the help of their colleagues to get the job done. Our managers have risen in the ranks, have operational experience and love getting their hands dirty. We have a passion for learning and share our knowledge with our customers and our staff. We seize opportunities and don't let go. We do not look for blame and believe in providing imaginative solutions. We deliver against our commitments.
Our Commitment to you
For our shareholders we will continually seek your interests by maximising returns on your investments. For our customers, we will continue to improve and provide quality products and services in a timely manner at competitive pricing. We are here to help you!
Business Model
Allied specialises in the consumer end of the Oil and Gas industry. Our business model revolves around 3 main strands; Products, Distribution and Services, each with as much significance as the other.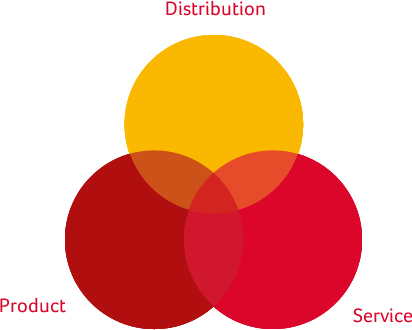 Our Distribution Network
Key to our operational activity is our distribution network. From 1998 to present we have grown and expanded our distribution avenues, invested in fleet and increased our presence all over the country. Allied has a haulage contract with Danicom Limited (a sister company) for the transportation of petroleum products from Tema Oil Refinery, BOST and other Private Depots, to its various retail outlets. We currently have regional operational offices located in Accra, Kumasi, Takoradi and Tamale. In addition to our regional offices we also have liaison offices at the Bulk Oil Storage and Transportation (B.O.S.T) depots in Ghana.